Because of the large market, Miami have no problem signing players who are considered superstars in the league. The club has already won three championships in its short history and is still considered a contender. As of the end of 2021, Erik Spoelstra is in charge of the team and the franchise owner is Mickey Arison.
Periods of decline
The franchise's poor start in the NBA is due to failures in the expansion market. The team failed to sign free stars who refused to travel to new teams on long-term contracts. Because of this, the Heat, in their first year of play, which was the 88/89 season, set a franchise record with just 15 regular season wins. The next year the team improved, but became a true playoff contender only after a few successful signings in the draft.
In the 2007/2008 season, injuries to the Heat's leaders forced the team to tank. Dwyane Wade missed 31 regular season games, while Shaquille O'Neal did not play in 49 games. Largely due to Diesel's slump and huge roster problems, the team repeated its anti-record, and Pat Riley stepped down as head coach after a disappointing season. Erik Spoelstra joined the team at the same time and still leads the squad to this day.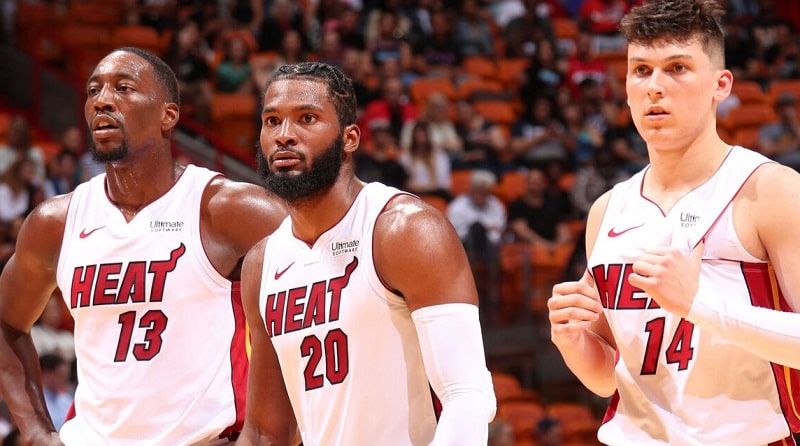 Prosperity periods
In the nineties the Heat were constantly listed among the playoff contenders, occasionally failing to meet the goals set by management. Dwyane Wade, drafted in 2003 at the fifth pick of the first round, sealed the fate of the franchise for several years. The basketball player instantly became the leader of an experienced squad which led the Heat to first place in the conference semifinals in the 03/04 season. One year later the team lost in the conference finals and one year later with the efforts of Wade and O'Neill they took the franchise rings in the history of the franchise.
The 2010-2011 offseason was the most banner season in franchise history. Not only did the team manage to extend Dwyane Wade's contract then, but it also managed to sign LeBron James. "King" announced his decision during a live TV broadcast, which caused a barrage of criticism from fans of his former team Cleveland Cavaliers and indescribable delight from Heat fans. Chris Bosh also joined the team but, despite the star trio, Miami only managed to win the title twice. The team lost twice more to the Dallas Mavericks and San Antonio Spurs.
In the 19-20 season the team reached the NBA Finals thanks to the signing of Jimmy Butler in a buy-and-hold trade and quality work in the draft. Bam Adebayo and Tyler Hirro shined for the team and Butler showed leadership in the playoffs. In the decisive series, however, Miami lost to the Los Angeles Lakers, who took the title in the year Kobe Bryant died.