The history of the franchise in Brooklyn, New York dates back to 2012. The then majority owner of the team, Mikhail Prokhorov, decided to change the Nets' location once again. The team was based in New York in the ABA before moving to New Jersey. Prokhorov, however, envisioned bringing the team back to one of the biggest cities in the world, creating direct competition between the Knicks and Nets. The team's head coach is Steve Nash, and the owner has changed from Mikhail Prokhorov to Joseph Tsai.
A period of decline
If at the start of Brooklyn's NBA career the team acted smartly and traded Joe Johnson from Atlanta, who with Deron Williams led Brooklyn to the playoffs, then later on the team's front office was heavily criticized in the media on several occasions. In 2013, Brooklyn made one of the most infamous trades in history, trading away Boston's top line of Kevin Garnett, Paul Pierce, Jason Terry and D.J. White for a number of their own players and three first-round picks. Nets general manager Billy King will be called the worst general manager in the NBA in the 21st century for this trade, and the team will be in decline for five more seasons after that.
In the 2015/16 season, with Kevin Garnett getting older and Paul Pierce leaving as a free agent, the Nets were the worst team in the conference with a 21-61 record. The downward trend continued the following year, with Brooklyn posting just 20 regular season wins. They went through their last 17/18 season without a peak, slowly improving thanks to the young core Kenny Atkinson had built.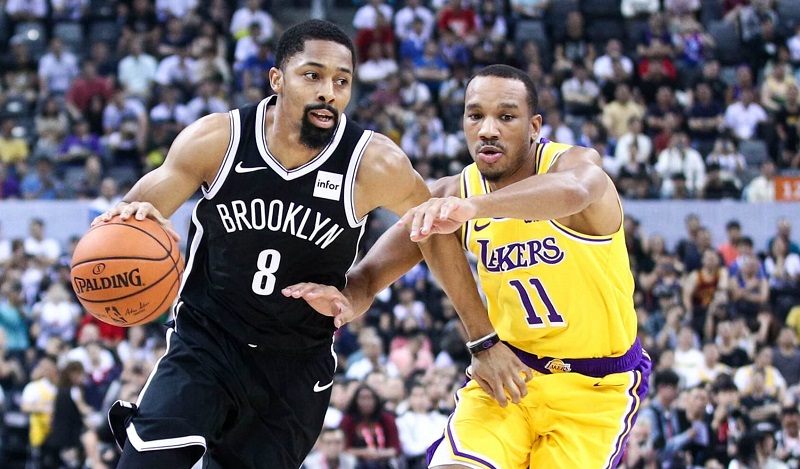 A period of flourishing
The 2018/2019 regular season is considered the first successful one in the Nets' recent history. The team established itself as a play-off contender. DiAngelo Russell, Joe Harris, Caris LaVert and Spencer Dinwiddie all showed progress, each starting to qualify for a big contract.
The franchise developed a young core further, but at the end of the season a number of elite players were running out of contracts. Kyrie Irving and Kevin Durant decided to team up and move to Brooklyn, refusing to move to the New York Knicks. DeAngelo Russell, for his part, left the franchise and moved to Golden State on a buy-and-trade deal.
The star duo spent their first season without Kevin Durant, who was nursing an Achilles injury. In a shortened coronavirus season the team made it to the play-offs, but were eliminated in the first round. The following year, James Harden also joined the squad. Houston's leader did not like the fact that the Rockets lacked a capable team around him and decided to move to Brooklyn. Caris LaVert left the Nets and Brooklyn made it to the semifinals of the playoffs where they lost to Milwaukee due to poor rotation and injuries to key players.